Configuration
To access the driver configuration dialog box, click on "Configuration / Communication ...", and select the "Drivers" tab. In the list of drivers, select the driver "SNMP Trap" and double-click or press "Properties ...".
If the driver is not in the list, it means it's hidden. You must first add it by clicking on "Add ..." and select the driver in the list. You can then access the Properties box shown below.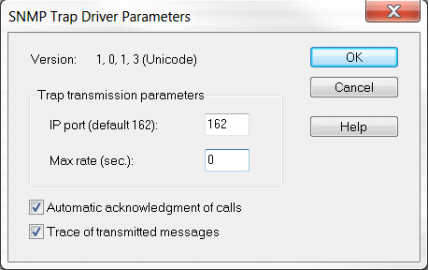 Options detail
IP port: This is the IP port on which the Alert software via the SNMP driver will connect to the remote machine.
Max rate: Sending frequency between 2 traps on the network.
Automatic acknowledgement of calls : When this option is enabled, once the message is sent, the operator is considered WARNED (no need to call the software to acknowledge the call).
Trace of transmitted messages: When this option is enabled, a trace appears in the journal of Alert indicating the message is transmitted.
Operators setup
After the driver configuration, you can add operators in Alert that will use the driver. Adding a new phone number to the operator displays the box as follows: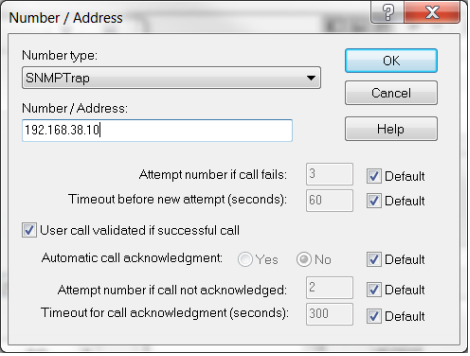 Select the type SNMPTrap, and enter the IP address of the server to send the trap to.