Failover of the main station to the backup station
Only four parameters define the conditions for activation or deactivation of redundant stations with
"Automatic switch" enabled.
The link state
The state of communication ports (one port or all ports)
The link to the redundant station
The type of station: primary or secondary
The loss of connection with the redundant station systematically causes activation of the station.
If the link is established, the active station is defined in the below table.
The table below summarizes all possible cases:
M = Main or principal
B = Backup or secondary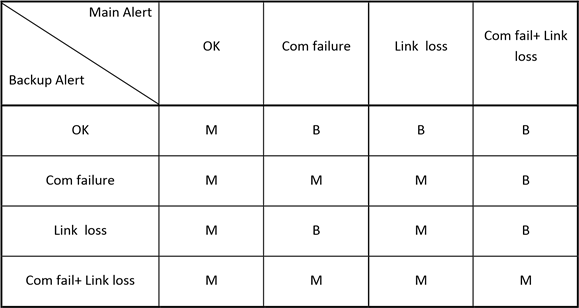 NB: Port fail is subject to the option "switchon portfail" in the .ini file (Redundancy section). If the option is enabled (value yes), the port fail in above table is valid when at least one port fails. If this option is disabled, no port must be able to call in order for the port failure to be taken into account.
Distincts functions:
1. Automatic failover
In case of automatic failover, the backup station will take over in case of loss of link with the supervision, modem failure on the main station or failure of the main station. Modem failures are handled in 2 ways: By default the backup station will only take over if all modems are failing on the main station. There is an option which enables the failover when only one modem fails. In this case, the station which has the most active modems will be the active station. In case of a tie, the main station will be active. If there is a loss of connection with the supervision on one ALERT and a modem failure on the other ALERT, the active station will be the one sending messages.
2. Manual failover
In case of manual failover, the supervision software decides whether to switch to the secondary ALERT and it is the supervision software that forces the switch. In this case, the supervision software must take into account the state of ALERT (modems state, state of the connection with the supervision, etc ...) to force the switch.
3. Failover during a call
When the backup station takes over, if a call is ongoing on the main station, the backup station resumes the call cycle at the same point as the main station. In fact, the backup station will continue to call operators who have not already been called by the main station. If the main station was on a call with an operator, the backup station will call that same operator but the number of attempts to this number will be reset.
This is only valid if the "Call synchronization" option is enabled on both stations