A sample configuration for using AlertMobile Gateway when connected to ALERT is illustrated below. Your security strategy and environment may be different, but the specified principles must be observed.
Open ALERT and login using an account with Administrator privileges then go to Configuration/Plugins/AlertMobile/Gateway to enable the connection between ALERT and AlertMobile Gateway: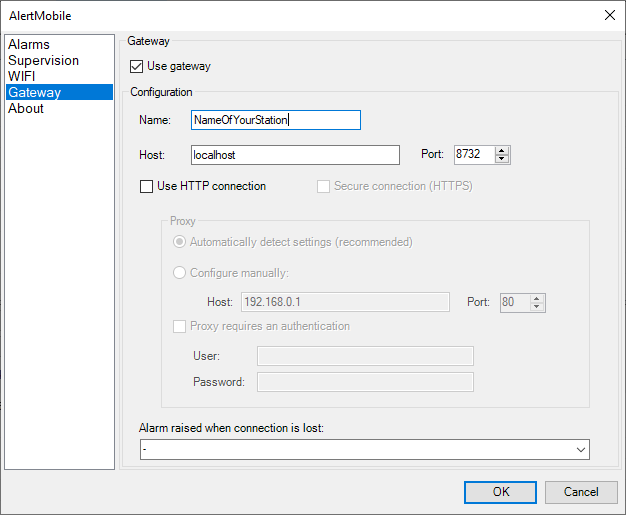 Note:
The settings in this section relate to the data in the example provided in the previous section. In the live environment, these data will be determined by your IT department.
The host address for the AlertMobile Gateway machine can now be defined:
If this is the same computer where ALERT has been installed, use localhost or 127.0.0.1
ALERT communicates with AlertMobile Gateway over TCP port 8732 by default
If you wish to use an HTTP connection (port 8080 will be used), check the "Use HTTP connection" box to enable the connection
If the HTTP connection requires a specific proxy server, set up the server accordingly
In this example, the server computer running Alert + AlertMobile Gateway is connected to the Internet. Therefore, Alert can send alarms to smartphones and receive interactions from AlertMobile users. In your case, the production architecture may be different and will be specified by your IT department.