You can launch the ALERT software by selecting "Alert 4.0" in "Micromedia" from the Windows list of programs.
The main window of the ALERT software opens. Before any action, you have to log in:
- Select the Login command in the menu File,
- or simply click on this icon

on the toolbar.

Then enter your name and, if necessary, your password in the dialog box.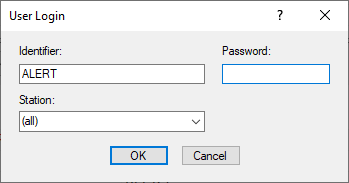 If no operator is specified in Alert (at first start for example), enter the default user name: "ALERT" (without password).

The ALERT software can now be configured.